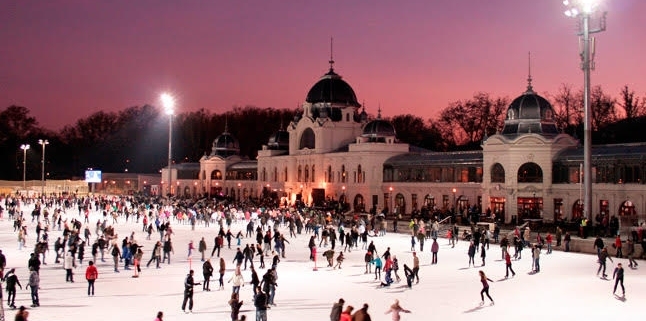 Winter season is all about chilly weather, snow, warm clothes, having a warm drink in cosy places, Christmas festivities…. and ice skating! Let us tell you about some locations in Budapest where you can have fun using (or renting) your skates!
Városligeti Műjégpálya – City Park Ice skating rink (Pest side)
The oldest, most beautiful ice-skating rink in our capital, and what's more it's the biggest permanent (during the winter season) open-air one in Europe! Located in the City park (Városliget in Hungarian), surrounded by the glamorous entrance building and the Vajdahunyad castle you can enjoy yourself from November till the end of February (Monday to Friday 9am-1pm & 5pm-9pm; Saturday 10am-2pm & 4pm-9pm; Sunday 10am-2pm & 4pm-8pm). Weekday tickets until Friday morning cost 1500 HUF (about 5 eur) for an adult, at the weekend the price is 2000 huf (about 7 eur). If you are not travelling with you ice skates, do not worry, you can rent some!
Bálna Korcsolyapálya – Ice-skating rink at the Whale shopping and cultural centre (Pest side)

If you go a little further south from the Great market hall at Fővám square, you can fin a beautiful whale looking glass building. If you go inside you can find some shops, a craft beer bar, some food as well. Furthermore, there is an ice skating rink from 1 st of December until the 31 st of January 2019! It is 450 m2 big and free of charge, but you can rent ice skates for 1000 huf (about 3 eur). The opening times are the following: Monday-Thursday 10am-2pm&3pm-10pm; Friday Saturday 10am-2pm & 3pm-12pm; Sunday 10am-2pm & 3pm-10pm.
Budai Műjégpálya at Jégkert – Ice skating rink in Buda (Buda side)
This rink is connected to a pretty good restaurant called Jégkert very close to the former Moscow square, now called Széll Kálmán square on the Buda side of the river Danube. After having finished your Budapest sightseeing and eaten a delicious lunch or dinner in their restaurant, burn some calories while having fun! Tickets cost 1500 huf (about 5 eur) when it is open for the public (10am-10pm, you might have to contact them and make a reservation at info@szenater.hu or +36204029729) and there is Night skating tickets on Saturday evenings. Rental skates are available here aswell.
If you have any further questions about winter activities in Budapest, do not hesitate to ask our guides on our daily free walking tours! We wish you a merry Christmas season!
https://www.triptobudapest.hu/wp-content/uploads/2020/09/ice-skating-in-Budapest.jpg
380
646
Trip
https://www.triptobudapest.hu/wp-content/uploads/2020/07/triptobp.png
Trip
2018-12-07 12:10:14
2020-09-25 10:49:15
Where can ice lovers go ice skating in Budapest?