Budapest is a beautiful city, you can walk around for hours adoring its gorgeous sights and streets of the inner city, but on a chilly day in February its nice to start or finish your day in a warm thermal bathhouse.
going to a warm bath on a chilly day in February
First, let's see why Budapest is called the spa capital of Europe and then we'll also give you some recommendations about which bath to choose before/after your Budapest sightseeing or some of our free walking tours! Believe it or not, this small country, Hungary, has the 5th biggest  thermal water supply under the surface in the whole world. Before us on the list there is Japan, Iceland, Italy and France. However, we have warmer thermal water than Italy and France, and our water has a higher mineral content than the water in Iceland and Japan! You can find at least 30 degrees Celsius hot water under about 80% of Hungarian land and the hottest water in Europe was also found here at the end of the 1800s: about 1000 meters deep in Budapest, under today's Heroes square they found 78 degrees Celsius hot water. Our thermal and mineral waters have curative power as well. Choosing an area and bathhouse to go to in Hungary or Budapest depends on what you would like to cure. Some of the water is good for curing rheumatologic, dermatological, gynaecological problems, but others can heal metabolic illnesses or cardiovascular problems.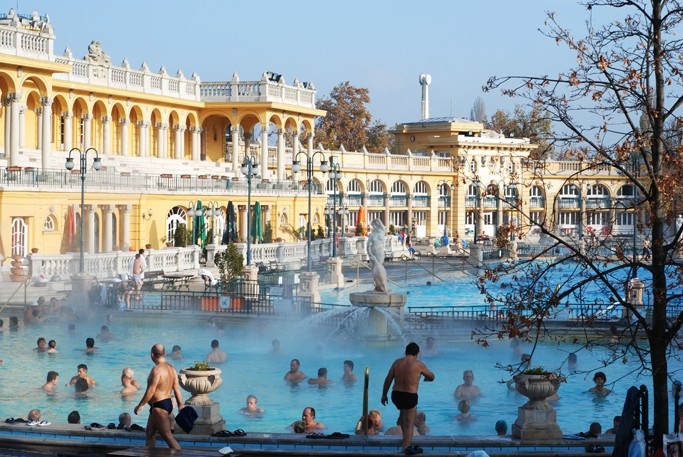 Even if you do not have any health problems, it is nice to go and relax in any of the beautiful bathhouses of Budapest. If you happen to have any issues, it's recommended to go to the bathhouses regularly, here are a few examples of which spa to choose: The Lukács and the Rudas baths have water with a high sulfur content which is good for curing dermatological and articular problems. They are both on the Buda side of the city almost at the riverbank. The Gellért and the Rudas baths have thermal water that has radon content, which can help with metabolic problems, hormone disorders and rheumatologic diseases. Both are on the Buda side, close to the river Danube.
The Széchenyi spa is probably the most well known one, its water is full of calcium-magnesium-
hydrogen-carbonate, sulphate, fluoride and metabolic acid. The water of the drinking fountain is also medicinal water containing calcium magnesium hydrogen carbonate, chloride, sulphate, alkalis and significant amounts of fluoride. It's good for curing for example chronic gastritis, peptic ulcer, intestinal tract, chronic inflammation of the urinary tract and renal pelvis. If you have any more questions about which bathhouse to choose, prices, locations, ask our experienced local guides on the free tours!
https://www.triptobudapest.hu/wp-content/uploads/2020/09/Thermal-water-of-Hungary-1.jpg
600
900
Trip
https://www.triptobudapest.hu/wp-content/uploads/2020/07/triptobp.png
Trip
2019-02-08 00:08:35
2020-09-25 10:38:03
Thermal water of Hungary