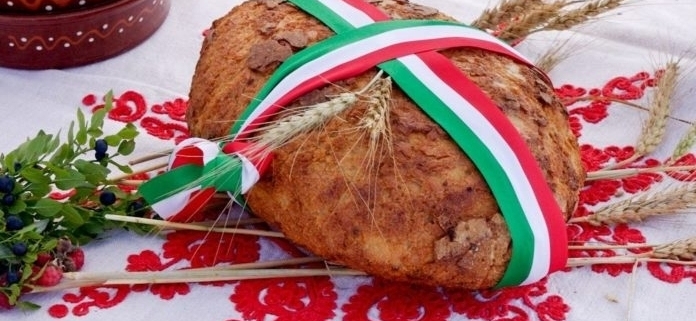 One of our most important national holidays: 20th of August. Read further for some practical information and to get to know the history behind the 20 th of August!
Let's start with the useful fact that this day is a national holiday and a bank holiday as well, most of the shops, malls will be closed, but the are still plenty of things to do in Budapest on this day. Our free walking tours operate as usual, but please note that we won't run our pub tour on the evening of the 20 th of August. However, there is a great thing to watch at 9 pm: we celebrate with a half-hour long firework on the bank of the Danube, which is attended by many people on both river banks and is watched by many from the hills on the Buda side of the river and from the rooftops of both Pest and Buda. There will be a lot of open-air programmes during the day as well in the inner city, you just have to walk around to discover them. What is more, on the national holidays you can visit a lot of museums free of charge. Also, the bathhouses operate with Sunday opening times and prices.
Now let's see what we celebrate on this day! Basically, we call this day the day of Saint Stephen or the day of foundation, also the day of new bread. Saint Stephen or Szent István in Hungarian, was the last Grand Prince of the Hungarians between 997 and 1000 or 1001, and the first King of Hungary from 1000 or 1001 until his death in 1038. The Hungarian (Magyar in Hungarian) tribes migrated from the Ural mountains to the territory of Europe and settled down here in 896.This number is always very important in Hungary and during your Budapest sightseeing on our free walking tours as well, so it is good to remember it! The Hungarians were wild pagan people and Stephen, after succeeding his father in 997, had to fight for the throne against his relative,  Koppány , who was supported by large numbers of pagan warriors. He defeated Koppány and "babtised" the country, established at least one archbishopric, six bishoprics and three Benedictine monasteries; thus the Church in Hungary developed independently of the archbishops of the Holy Roman Empire.
He encouraged the spread of Christianity with severe punishments for ignoring Christian customs. His system of local administration was based on counties organized around fortresses and administered by royal officials. Hungary, which enjoyed a lasting period of peace during his reign, became a preferred route for pilgrims and merchants traveling between Western Europe and the Holy Land or Constantinople. Saint Stephen's feast day commemorates the foundation of the state. There you go, now you know what will be going on on Monday in Hungary and Budapest, enjoy this and your other days spent in our capital!
During the existence of the Hungarian People's Republic, 20 August was celebrated as the founding of the socialist republic
https://www.triptobudapest.hu/wp-content/uploads/2020/09/August-20th-Hungarian-National-Holiday.jpg
371
696
Trip
https://www.triptobudapest.hu/wp-content/uploads/2020/07/triptobp.png
Trip
2018-08-19 00:37:23
2020-09-25 10:56:12
August 20th: Hungarian National Holiday