Covid-19 related news of Hungary and the Free Budapest Walking Tours Team
As we have shared in our previous blog article, a gradual reopening started in our country after the third wave of the coronavirus pandemic reached its peak and the number of new cases started dropping plus the number of people who got their first Covid-19 vaccine reached 3.5 million (this was the number they set for the gradual reopening).
Terraces of cafés, bars, restaurants could reopen last Saturday, on the 24th of April 2021, after a long break, they have been closed since last November… We made a few pictures last Sunday at our free tour meeting point in Budapest, on the Erzsébet square, where there are a few open-air bars and a club, too (the photo on top of this article also belongs here).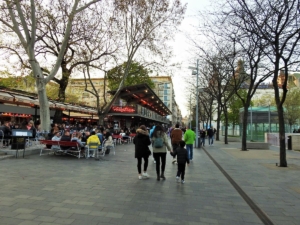 We are soon going to reach 4 million vaccinated Hungarian people and then they are going to ease some other restrictions, too. Let's see what is going to happen when we reach the number 4 million: gyms, pools, libraries, zoos, museums, hotels, accommodations can reopen, too, but only those people can visit them who are already vaccinated against Covid-19 and have their immunity cards with them. They send these plastic cards to people who already got their first dose of the vaccine.
We are still not running our daily Free Budapest Walking Tours, but hopefully the gradual opening can go on and we can soon start guiding you around in our beautiful capital city. We are keeping you updated on our website and Facebook page as well!
When we reopen there will be small change to our General Budapest Walk: we are dividing it into two parts, since the famous Chain bridge has been closed for renovation works until the end of 2023 and if we took another bridge from Pest to Buda that would take too long. This is why we are going to have a separate General Pest Walk and General Buda Castle Walk with different meeting point. We are keeping you updated with this topic as well!
Take care, hope to see your smiling faces soon! 🙂
https://www.triptobudapest.hu/wp-content/uploads/2021/04/reop-kicsi-1.jpg
900
1200
Judit
https://www.triptobudapest.hu/wp-content/uploads/2020/07/triptobp.png
Judit
2021-04-29 17:21:23
2021-04-29 17:21:23
Gradual reopening of Hungary