When you're in the middle of your Budapest sightseeing and you're walking around the city centre of Pest, you can easily bump into the Erzsébet (Elisabeth) square and the Akvárium klub. This place has been one of the most popular cultural centres, concert venues and clubs in our capital. It's hard to miss it with its pool on the level of the ground and its colourful open-air terrace under the level of the ground.
This spring they also organize a festival called 'Spring Terrace.' In our previous post we wrote about the Budapest Spring Festival. As part of this event the Akvárium klub set up the Spring Terrace, which lasts from the 1 st of April until the 22 nd . On the lively terrace of the club (we pass by it on some of our free walking tours as well) Hungary's popular and acknowledged musicians and young talents entertain the audience with free acoustic concerts and on Sundays there are programs for children. The festival's foreign star DJ guest is the legendary Spanish DJ and producer, José Padilla. Sunshine, budding trees, the scent of flowers in the air, nice cocktails, a beer or a tea – who's not longing these after the winter?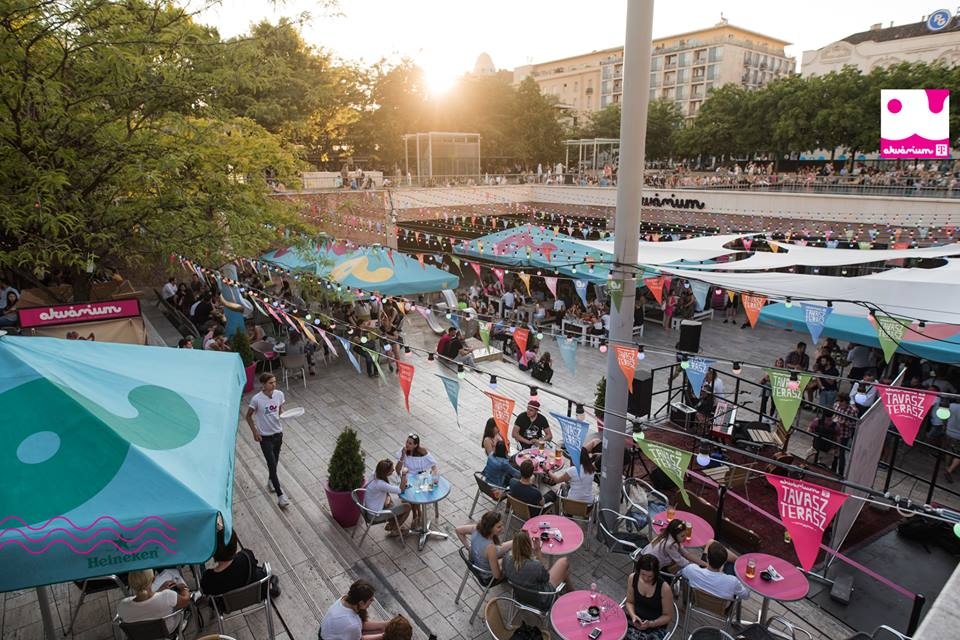 Just like on our free tours, also here we like sharing stories about different parts of Budapest, so let us share a few sentences about the interesting story of the Akvárium klub or Aquarium club in English. During the time of communism (we were part of the Eastern-European communist block after the second world war for about 45 years) the Elisabeth square where the club is located was a grey parking lot with a bus station on it. After the regime change in 1989 one of our governments decided to build our national theatre on the square. Construction started and they were ready with the base of the theatre within a year.
However, there was another government elected the next year and of course they decided to build the national theatre somewhere else in Budapest. So they left a huge hole in the city centre which was sitting there for 2 long years. Finally they accepted the plans of the construction of a cultural centre on the Elisabeth square. The name of the place ended up being 'Gödör' which means hole or pit in English. You must wonder why. There has been a change in the ownership and the name of the club and they built a pool as well above it making it look quite cool.
https://www.triptobudapest.hu/wp-content/uploads/2020/09/Spring-Terrace-Festival-at-Akvarium-Club.jpg
1080
1920
Trip
https://www.triptobudapest.hu/wp-content/uploads/2020/07/triptobp.png
Trip
2018-04-10 11:09:36
2020-09-25 10:58:51
Spring Terrace Festival at Akvárium Club