In this post we would like to wish all of you all over the world HAPPY HOLIDAYS AND A PEACEFUL NEW YEAR! May 2021 be calmer and more organized than 2020 for all of us…
Latest Hungarian Covid-19 related news
Since our last blog post, not much has changed, please read about the latest Covid-19 related restrictions in Hungary in our previous blog article:
Traditional Hungarian Christmas and New Year's dishes
Let us share a few sentences and pictures of what we eat around Christmas and New Year's Eve 🙂
Halászlé: Fisherman's soup – it is a hot, spicy paprika spice based fish soup. It is a folk item of Hungarian cuisine, a bright-red hot dish prepared with generous amounts of hot paprika and carp or mixed river fish. It is native to the Pannonian Plain, particularly the river Danube and river Tisza regions. It is also a popular dish among ethnic German "Donauschwaben" and their descendants, for them it is known as "Karpfensuppe".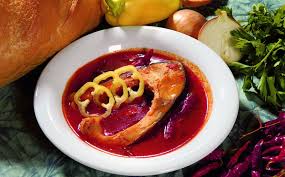 Töltött káposzta: Stuffed cabbage – big cabbage leaves filled with a meatball made of minced meat, rice and spices; cooked with a lot more cabbage (sauerkraut) and of course the Hungarian paprika spice. Add some sour cream to make it even more delicious and even more Hungarian! 🙂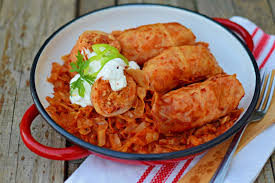 Bejgli: Poppy seed/Walnut roll – it is a pastry consisting of a roll of sweet yeast bread with a dense, rich filling of poppy seed, minced walnuts or minced chestnuts. It is popular in Central Europe and parts of Eastern Europe, where it is commonly eaten at Christmas and Easter time.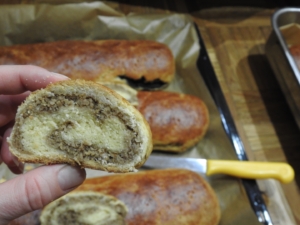 Our home made bejgli based on a recipe by one of our grandma's 🙂
At New Year's Eve traditionally we do not eat poultry because they say good luck flies away with them…
But we do eat for example: Lencsefőzelék: Lentil stew or pottage – this is a type of thick Hungarian vegetable stew or soup, similar to pottage. Főzelék is a special category in Hungarian cuisine, not quite like a soup, and thinner than a stew. We eat lentils, because according to Hungarian superstitions it makes you rich in the upcoming year.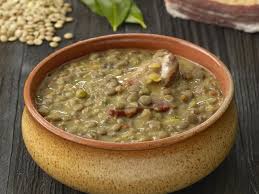 Once we are back on track in 2021, you can learn even more about Hungarian cuisine and culture on our free tours! Cannot wait! 🙂
https://www.triptobudapest.hu/wp-content/uploads/2020/12/Happy-Holidays.jpg
720
1280
Judit
https://www.triptobudapest.hu/wp-content/uploads/2020/07/triptobp.png
Judit
2020-12-28 13:58:57
2020-12-28 13:58:57
Happy Holidays!