Covid-19 related news of Hungary
Since our last blog post coronavirus related restrictions in Hungary has not changed. We might have reached the top of the second wave of the pandemic here, and they are going to decide in the next couple of days about changing the restrictions or leaving them as they are now. You can find the short summary of the valid restrictions of Hungary at the following link:
Story of a world-famous Hungarian explorer and writer
We have started sharing stories of internationally known/important Hungarian persons or things, and the following story is going to be about Gábor Molnár (1908-1980), a world-famous Hungarian explorer and writer, who wrote his works blindly after losing his sight in an accident.
Gábor Molnár was born in Óbuda (Old Buda, north from Buda now) and used to visit the Zoo of Budapest a lot already in his childhood and youth. He used to read the works of Hungarian explorers a lot, too (Lajos Bíró, Ármin Vámbéry, Sándor Kőrösi Csoma). In 1929 he read about an expedition to Brazil in the Christmas issue of a Hungarian newspaper. He couldn't have hoped to go on a research trip on his own once, so he applied to this trip in a letter. To his great surprise and joy, because of his talents, his shooting skills and his determination, he was chosen as the third member of the expedition to increase the animal and insect collection of the Hungarian National Museum. However, after their arrival, his two companions became seriously ill, and in order to finance their healing and return home, they even had to sell the weapons and equipment of Gábor Molnár, who thus continued exploring and collecting alone without any financial support.
In Brazil he took the job of a site manager at one of the Ford Company's rubber plantations, with the stipulation that he could set out on his own expedition at any time. From the money he received there, he equipped the following voyages of discovery and paid his companions from this wage. During the explorations he met native Indians, collected special animals, including valuable giant snakes, beetles, insects, animal skins, which he sent home to the Budapest Zoo and the National Museum. Molnár was not paid for these, he only got a diploma and other moral recognition.
On March the 7th, 1932, there was an accident that changed his life forever… In a Ford warehouse that was under his supervision a subordinate, a young boy, found an explosive package. Gábor Molnár himself wanted to remove the igniters, but on the way to the nearby river they exploded in his hands, and as a result he lost his eyesight.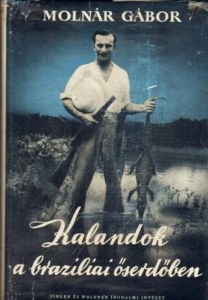 Gábor Molnár's first full book – Adventures in the brazilian jungle
Returning from Brasil and starting writing
He came home from Brazil on May the 24th, 1932, under adventurous conditions in the company of two giant snakes. He was treated in Hungary at the state eye hospital, where his doctors confirmed that he would never see again. Here, with the help of one of the nurses, he learned to use Remington's typewriter, which launched him into the writing career. He put his experiences, travel adventures and discoveries on paper, his first articles appeared in Budapest newspapers, and then he entered the writers' society. Later, his twenty-six independent volumes and more than a hundred feuilletons (a part of a newspaper or magazine devoted to fiction, criticism, or light literature) and educational works were published, he acquired radio games and took part in hundreds of writer-reader meetings. From the middle of the 20th century, he became one of the most read and popular writers in the country.
In parallel with his work as a writer, he continued his adventures in the world until the end of his life, visiting Asia and South America several times, and his wife was his faithful companion and main support all the way.
(Story idea taken from HUstory's Facebook page.)
We are looking forward for our adventures on our free tours in Budapest with you, when it will be possible to travel more freely again…!
https://www.triptobudapest.hu/wp-content/uploads/2021/01/Jungle-background-scaled.jpg
1280
2560
Judit
https://www.triptobudapest.hu/wp-content/uploads/2020/07/triptobp.png
Judit
2021-01-07 19:05:23
2021-01-07 19:05:23
Latest news & The story of a Hungarian explorer