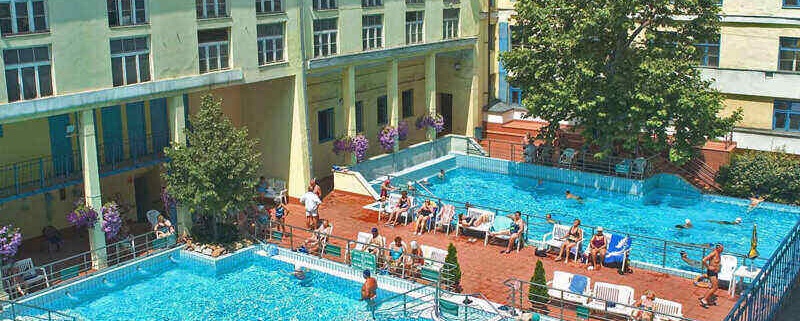 In Focus Budapest Thermal Baths – Lukács Bath
Dear Travelers,
let us, the triptobudapest.hu – Free Budapest Walking Tours Team recommend you some of Budapest's nicest bathhouses… This time in this blog article we introduce you the Lukács Spa. It is a great option to relax after a free tour with us in the Hungarian capital! 😉
Hungary was occupied by the Ottoman Turks for roughly 150 years in the 15 and 16 hundreds (after Christ). An indisputable benefit of their occupation was the bath culture. Most bathhouses are on the Buda side of the river Danube while Széchenyi Thermal Baths can be found in Pest. Each bathhouse has its own character and atmosphere.
3 hours should be enough time for you to get the most from your visit. Our personal favorite called Lukács Thermal Baths https://en.lukacsfurdo.hu/ is located a few hundred meters north from Margaret Bridge on Buda side.
Sunbathing on the terrace with a spectacular view on the Buda hills is priceless. There are both a wet and a dry steam chamber and 6 indoor pools – each has varying temperature of medical water. The hottest is 40 degrees Celsius. Outdoor pools are open all year long, too. The swimming pool is where the famous Hungarian composer called Zoltan Kodaly used to swim (Hungarian composer, ethnomusicologist, pedagogue, linguist, and philosopher. He is well known internationally as the creator of the Kodály method of music education), the leisure pools are where famous Hungarian writers and poets had their small talks. The medical water of the thermal baths is not recommended under the age of 14. Wearing a swimming cap is obligatory in the swimming pools.
Ask your free tour guides about more bathhouses in Budapest and about what to bring and what not to bring to the thermal baths with you!
Let us also remind you that our free walking tours in Budapest still run as normal after the summer season is coming to an end. See the DAILY TOUR SCHEDULE HERE!
https://www.triptobudapest.hu/wp-content/uploads/2022/09/Lukacs-bath-photo-from-termalfurdok.-com.jpg
526
800
Judit
https://www.triptobudapest.hu/wp-content/uploads/2020/07/triptobp.png
Judit
2022-09-12 18:31:04
2022-09-12 18:31:04
In Focus Budapest Thermal Baths – Lukács Bath