Latest Covid-19 related news of Hungary
Since our last blog post there has not been any changes to restrictions in Hungary, please click on the following link to read about the latest Covid-19 news and restrictions of our country:
Carnival Season = Farsang in Hungary
Farsang in Hungarian is the name of the period from Epiphany (Vízkereszt in Hungarian, on January 6th) to Pancake day (Húshagyó kedd in our language, it is before Ash Wednesday, it is the 47th day before Easter Sunday), to the beginning of Lent. It is traditionally celebrated with happy feasts, balls, fun, folk festivals. The characteristic of the carnival season is that there is no important religious holiday associated with it in the Christian liturgical calendar, it is mostly based on folk traditions. Carnival events from pre-Christian times were prohibited in the 16th and 17th centuries, because of their wild customs mostly symbolizing lust, hedonism. In Hungary during old times, Farsang was also a period of mating and was also an important "wedding season" as it was already forbidden to hold a wedding during the Easter fast period.
The highlight of Farsang is the carnival. This period of the last three days from Carnival Sunday to Pancake day is actually a winter farewell, too. Famous carnivals (the Rio Carnival, the Venetian Carnival) are held in many cities around the world, and in Hungary the most notable event of the carnival is the 'Busójárás' in Mohács, a city on the southern part of Hungary, close to Serbia.
The Busójárás
Busójárás is a celebration of the Šokci people living in the town of Mohács, Hungary, held annually at the end of the Carnival season, Farsang, ending the day before Ash Wednesday. The celebration features Busós (people wearing traditional scary masks) and it includes folk music, parades and dancing, masquerading. There are 2 reasons why they dress up in scary costumes:
To scare winter away
To scare the Turks away… (A big part of Hungary was under Ottoman occupation between 1541 and 1699)
The Busójárás lasts for six days and it is held usually during February. Ten thousands of people visit this event and since 2009 it has been on UNESCO's intangible cultural heritage list.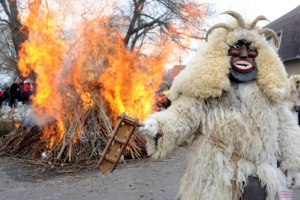 Photo: alfatours. hu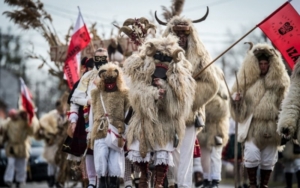 Photo: promenad. hu
A delicious thing we eat at Farsang
The Farsang Doughnut or Farsangi fánk as we call it in Hungarian. It is a soft yeast cake, we deep-fry it and fill it with fruit jam or eat it empty with some powdered sugar on top, yummy! Once we are back on track after the Covid-19 restrictions are eased, you can learn about more delicious Hungarian sweets on our Free walking tours in Budapest!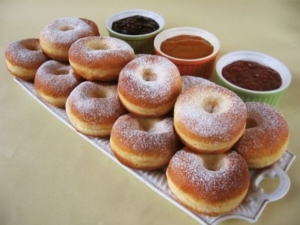 Photo of doughnuts: kifoztuk. hu
https://www.triptobudapest.hu/wp-content/uploads/2021/02/Carnival-mask-from-mycyprustravel.jpg
740
1440
Judit
https://www.triptobudapest.hu/wp-content/uploads/2020/07/triptobp.png
Judit
2021-02-15 11:59:43
2021-02-15 11:59:43
News & Carnival (Farsang) season in Hungary