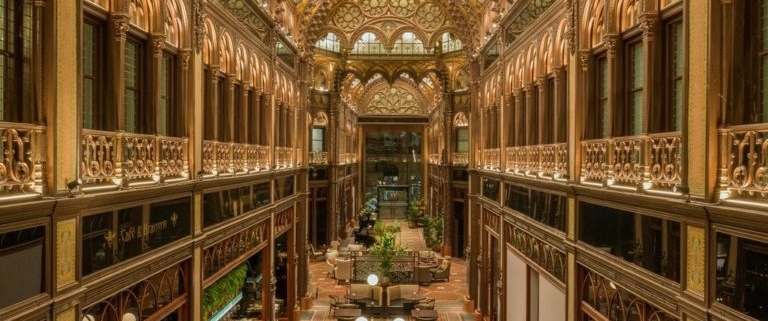 When you are wandering around downtown Pest during your Budapest sightseeing, you can bump into a beautiful building that has been renovated recently and stands proudly on the Ferenciek square. Let us tell you more about this gem in our next article.
The Párisi udvar (Paris Courtyard) is one of the most beautiful and special constructions in the city center, reopened as a luxury hotel in 2019 after five years of renovation. It was formerly full of shops and then got abandoned, it became a favourite spot for city explorers – the most frequently asked question during the renovation was what would open here… After the hotel was ready, a restaurant and bar/café opened under the glass domes next to the reception and lobby, so if it gets chilly outside it is definitely worth to have a warm drink and cake inside.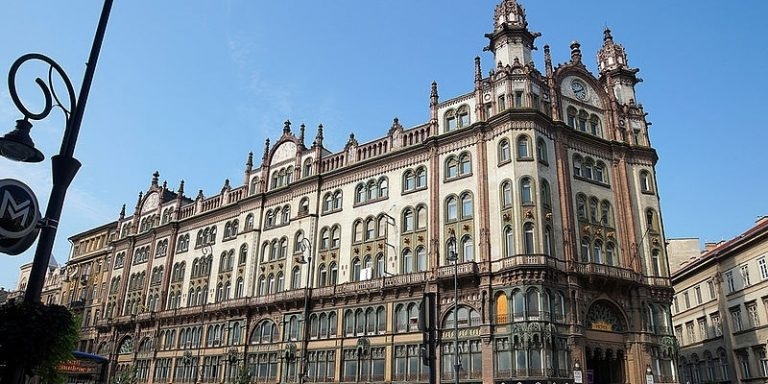 The original building was constructed in 1817 according to the plans of Mihály Pollack (who was an Austrian-born Hungarian architect, key figure of neoclassical architecture. His main work is the Hungarian National Museum (1837–46)). The Paris Courtyard had one of the first modern shopping passages in Hungary. They believed that Pollack designed the passage of the building to be like the Passage des Panoramas in Paris (built around 1810), this is why they started calling it the Paris Courtyard. The light of the original building diminished over time, during the great urban settlements of the late 19th century. It was almost completely demolished at the turn of the 20th century, and the site was purchased by the Downtown Savings Bank in 1906 to build its new center there. The historicizing eclectic office and apartment house blending Moorish and Gothic styles was not seriously damaged during the Second World War, but in 1949 the emerging socialist system nationalized and remodelled its interiors. Then it got almost empty and run-down by 2014 when the renovation started.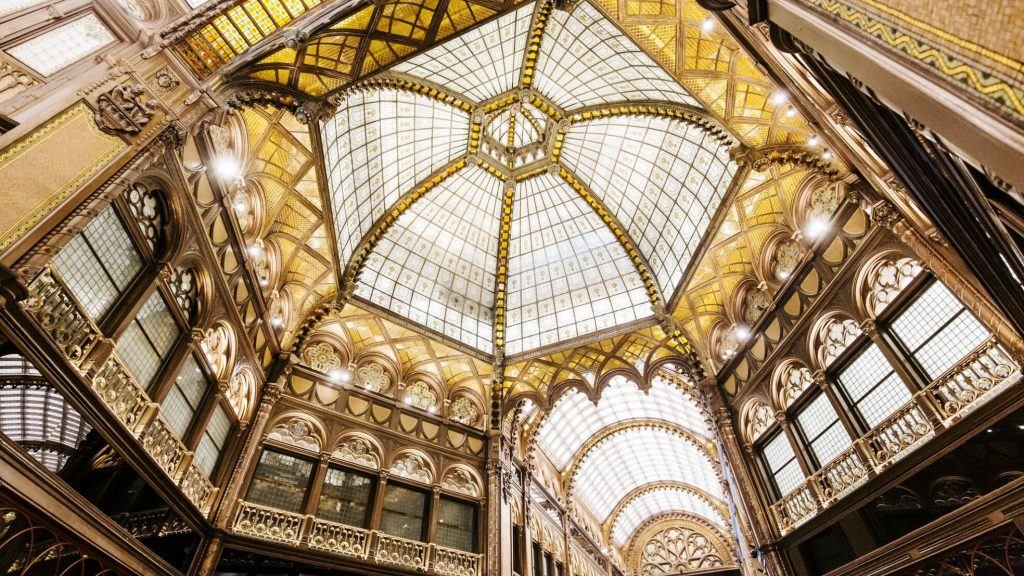 After the 5-year long renovation the building and the passage is now shining again, the two huge domes have been cleaned and rebuilt by the restorers. The electric glass ceiling overlooking Ferenciek Square is certainly unique in Hungary, but probably unique in the world as well. On the outside it is decorated with hundreds of thousands of ceramic tiles and ornaments. 
If you would like to find this beauty or other gems in Budapest, do not hesitate to ask your guide on our daily free tours! See you soon!
https://www.triptobudapest.hu/wp-content/uploads/2020/09/Paris-courtyard.jpg
527
768
Trip
https://www.triptobudapest.hu/wp-content/uploads/2020/07/triptobp.png
Trip
2020-06-04 08:22:34
2020-09-25 10:05:33
The beautifully renovated Paris courtyard