It's that time of the year again when the Easter Bunny comes to visit us. But Easter is so much more than this in Hungary as well, let's see what traditions we follow and what kind of food we eat during this spring holiday!
Easter traditions in Hungary
Easter is a festival and holiday celebrating the resurrection of Jesus from the dead, described in the New Testament of the Bible. It is the culmination of the Passion of Jesus, preceded by Lent, a forty-day period of fasting, prayer, and penance.
In our country the various celebrations and traditions are linked to Christian traditions, pagan rituals and modern customs as well. One of these traditions is watering or sprinkling the girls and women on Easter Monday. It is based on a former pagan fertility ritual and originally the "victims" were young maidens, but nowadays men do this to women of all ages, relatives, friends, too. First boys recite a cute little poem to girls and then sprinkle them with perfume so that they don't wilt. In some villages or smaller towns on the Hungarian countryside they still follow the older traditions: boys do not use a little amount of perfume to sprinkle girls, but a huge bucket of cold water! This way our women won't wilt for sure! In the past it was a form of courtship and young women were happy to be "sprinkled" by many potential suitors. In return, girls give the men chocolate Easter eggs, specially decorated painted eggs, home made cakes and/or a shot of pálinka (a strong Hungarian fruit brandy made of any kind of fruits.). Fair trade, right? 🙂
If you are finished with your Budapest sightseeing or have joined all of our free walking tours and still have extra time before you leave our city, you can travel to Hollókő by train or bus, which takes around 2 hours, and you can witness this tradition live as well. Hollókő is a very nice village on the Hungarian countryside recognised by the Unesco.
Painted Eggs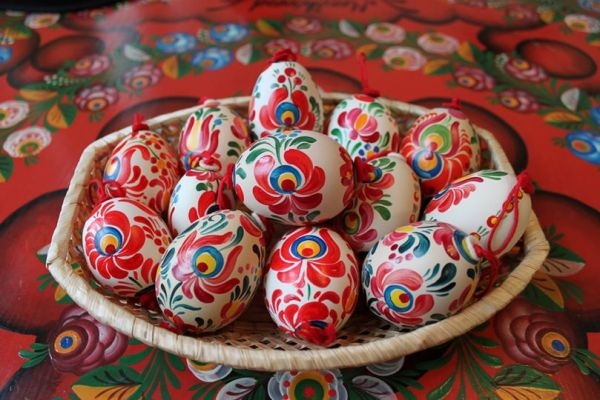 Painted eggs are also part of the Easter traditions in Hungary. Within the Christian tradition eggs were painted red (to symbolize the blood of Jesus Christ), however in recent centuries this has changed, we paint or dye the eggs to many different colours and decorate them with beautiful patterns. The flower motifs that are often incorporated in the decoration reflect the embroidery and motifs that you can see in Hungarian folk art. You can buy these lovely eggs as souvenirs in a lot of shops in Budapest.
Last but not least: food!
Imagine that you have been fasting for 40 days and now you can turn back to culinary delights again… your appetite won't be small and Hungary won't disappoint you, we have many delicious Easter dishes. For those who follow Christian traditions, on Good Friday it's customary to eat fish, and on Easter Sunday meat dishes are eaten. Typically Hungarians eat ham served with horseradish and boiled eggs on Easter Sunday and a kind of braided milk loaf (kalács) is also served.
Useful info
Do not forget that Easter Sunday and Monday are public holidays in Hungary, so on Monday (17th of April) most shops will be closed and generally public transport will run less frequently (similar as on Sundays). Cafés, restaurants and some convenience stores will be open according to their usual opening hours on both of these days. Bathhouses and museums will be open, but on Easter Monday like on every Mondays, museums will be closed.
Our Free walking tours run every day during Easter, so come join us, and girls don't be surprised and scared if you see some of our male guides approaching you with a big bucket of cold water in their hands! 🙂
Kellemes húsvéti ünnepeket to everyone!
https://www.triptobudapest.hu/wp-content/uploads/2020/09/Easter-Traditions-in-Hungary.jpg
1363
2048
Trip
https://www.triptobudapest.hu/wp-content/uploads/2020/07/triptobp.png
Trip
2017-04-10 15:02:58
2020-09-25 11:47:04
Easter Traditions in Hungary