Latest Hungarian Covid-19 related news
Right now there are about a 150 000 thousand people vaccinated with the 1st dose of the vaccination and about 12 500 with the second dose as well in our country. In the last two weeks the number of cases seems to be decreasing, but the threat has not yet passed.
You can read the short summary of the valid Covid-19 restrictions in Hungary in our previous blog article:
The story of Ágnes Keleti, the world's oldest Olympic champion
This lady just celebrated her 100 birthday on the 9th of January which made her the world's oldest living Olympic champion, we are very proud of her… 🙂 And now, let's see her story…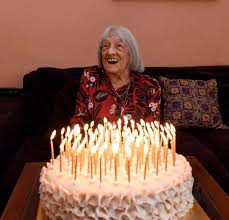 100 year old Ágnes Keleti on the 9th of January (photo: Keleti 100 – Facebook page)
It is not rare that many famous sportsman are preparing for another profession, but then chance determines their career and "accidentally" they end up as some of world's best sportsman… Ágnes Keleti wanted to be a violoncellist, she was talented, too, she had already performed at the Hungarian Academy of Music, but then a Christmas party came , when she was in high school.  She made a mistake… She wanted to play the swan (Saint Saens) when she was hit by a sudden "short circuit" and froze. She might have played in a symphony orchestra as an adult, she might have been one of the best cellists of Hungary.
But finally she became one of the most successful athletes of her age, whose name is known all over the world. If she had a little more luck, she would have won even more than five Olympic golds, she could have gotten up to eight. Of course, five is not a small thing, there is no other Hungarian athlete who won four golds at an Olympics. Unfortunately, they could not celebrate her successes, what's more, after 1956 (there was a revolution in Hungary against the Communist dictatorship that year), she entered Hungarian territory again only in 1983, so she is hardly known at home…
She was 16 when she started doing gymnastics, at first just to entertain herself. However, Zoltán Dückstein, one of the good coaches of that era, noticed her talent. In 1940, when she was 20 years old, Keleti was already a Hungarian champion, if the Olympics were held that year, she would have had a place in the team… but since she's Jewish, she could not be part of it. Unfortunately, because of her Jewish origins, the following years were more about survival, than doing sports…
Trying to survive
She took any kind of jobs what she could, she was a furrier's apprentice, worked in a munition-factory, and used all tricks to survive. She did not put the stigmatizing yellow star on her clothes, and she bought the documents of a certain Piroska Juhász, she paid with all her valuables and money for it. Her uncle and cousin were taken in front of her eyes by the Arrow Cross (the Hungarian fascist party that supported the Nazis and the deportations of Jewish people in Hungary). Her wealthy father, who was a co-owner of a factory, died in Auschwitz. In 1944, the worst year of the Hungarian Holocaust, Keleti was hiding on the Hungarian countryside. Then in January, 1945 the siege of Budapest ended, and her husband returned  from the Mauthausen concentration camp in the spring weighing 33 kg…
A new beginning after WW2
By the fall of 1945, they already restored a gym to such condition that they could do sports there. They achieved that Rezsőné Herpich, the most prestigious coach of the era, was able to return from the expulsion, and the national team reunited. The team traveled to the 1948 London Olympics with the chance of winning, but Keleti was injured unexpectedly. She watched her team in London finish second behind the Czechoslovaks…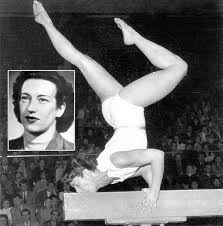 Young Ágnes Keleti – photo: tornasport.hu
The first golden medal
Keleti was already 31 years old at the Olympics in 1952 in Helsinki and there she wanted to make her big dream come true and become an Olympic champion. They prepared for the final of the ambiguous railing under political pressure while knowing that they had to loose the golden medal and the Soviet team had to win it… However, Mátyás Rákosi (the leader of the Hungarian Communist party 1947-1956, during the period we call the "Heavy dictatorship") changed his mind in the last minute and asked the team leaders to do everything for the Hungarian success.
You can learn more about the Communist dictatorship in Hungary after WW2 on our Communism tours in the future, when we start running our free tours again: https://www.triptobudapest.hu/tours/communism-walk/
Four gold medals from 1 Olympic games – a Hungarian record
In 1956 in Melbourne, where Keleti's sister had been living, her farewell appearance ended with four gold medals, and if she didn't have a spoiled jump, she could have won the fifth as well. Even so, there are two important records attached to her name:
No other Hungarian gymnast has ever won gold at two consecutive Olympics
To this day in Hungary, she holds the most Olympic medals (10) preceding swimmer Krisztina Egerszegi  and sprint canoer Danuta Kozák
Internationally, her performance is not small, Keleti has the third place in the eternal ranking of gymnasts behind the Soviet Larissa Latinyina and the Czechoslovak Vera Caslavska
Her life after 1956
Keleti did not return home to Hungary (like many other Hungarian sportsmen…) from the Melbourne Olympics. She settled down in Israel in 1957, married a Hungarian man there and had two sons. She came home first after the change of regime in 1989, and has visited several times since. She played a key role in the creation of Israeli gymnastics, and from 1958 to 1980 she was the federal captain of the Israeli national team, while preparing the Italian national team for the 1960 Olympics. The 3 things that describe her the most: Humor, love of life, laughter 🙂
We wish you these all over the world, especially during these hard times…
https://www.triptobudapest.hu/wp-content/uploads/2021/01/Budapest-in-winter.jpeg
637
1200
Judit
https://www.triptobudapest.hu/wp-content/uploads/2020/07/triptobp.png
Judit
2021-01-26 18:38:07
2021-03-19 07:00:01
News & The story of the world's oldest Olympic champion, who also survived the Holocaust