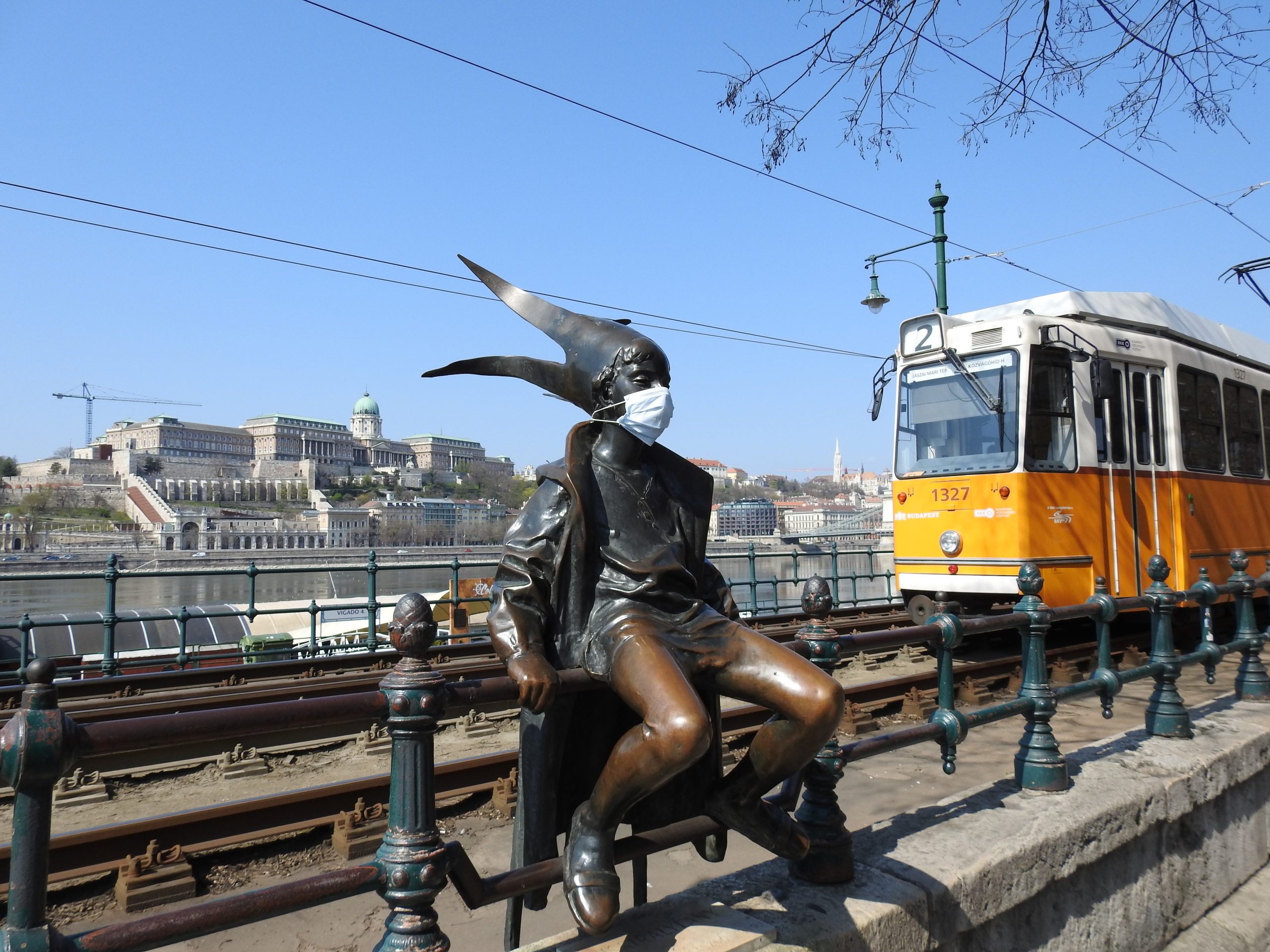 Dear Everyone, we hope that you are doing okay as much as things can be going okay during these difficult times.
We just wanted to let you know that we are alive and cannot wait to be with you on our free tours and other kind of walking tours in Budapest again!
We are preparing new options as well for life after the Covid-19 pandemic. Besides our free walking tours low-cost, small-group walking tours will be available as well for those who would like to avoid crowded walking tours. We will guarantee small groups of maximum 10 people, this way everyone can keep distance from fellow travellers and still hear the guide during the whole tour.
During the time when we cannot do walking tours yet, we are also making a photo sequence, we take pictures of statues in Budapest wearing a mask. Here is the first two of these photos:
The Little Princess sitting on the Danube Promenade. The original 50 cm statuette of the Little Princess (Kiskirálylány) in Budapest, Hungary was created by László Marton (1925–2008) Munkácsy- and Kossuth Prize-winning sculptor in 1972.The artist was inspired by his eldest daughter who often played wearing a princess costume and a crown made out of newspaper by her father, pretending her bathrobes were a mantle. This image prompted her father, the artist in the creation of this little statue. A larger copy was placed on the Danube promenade in 1990. The special thing about this version is that Hungary just went through the regime change, Communism ended, and Democracy started in 1989. They removed most of the statues of the Communist period from the inner city of Budapest and this Little Princess on the Danube Promenade was the first statue that did not depict a Communist leader, politician, a Soviet soldier or a muscular worker, but it depicted a little girl without any ideological meaning. You can see a copy of the same statue in Japan – that was donated by the artist – in front of the Tokyo Metropolitan Art Space cultural centre's concert hall. The original statuette (1972 version) is owned by the Hungarian National Gallery.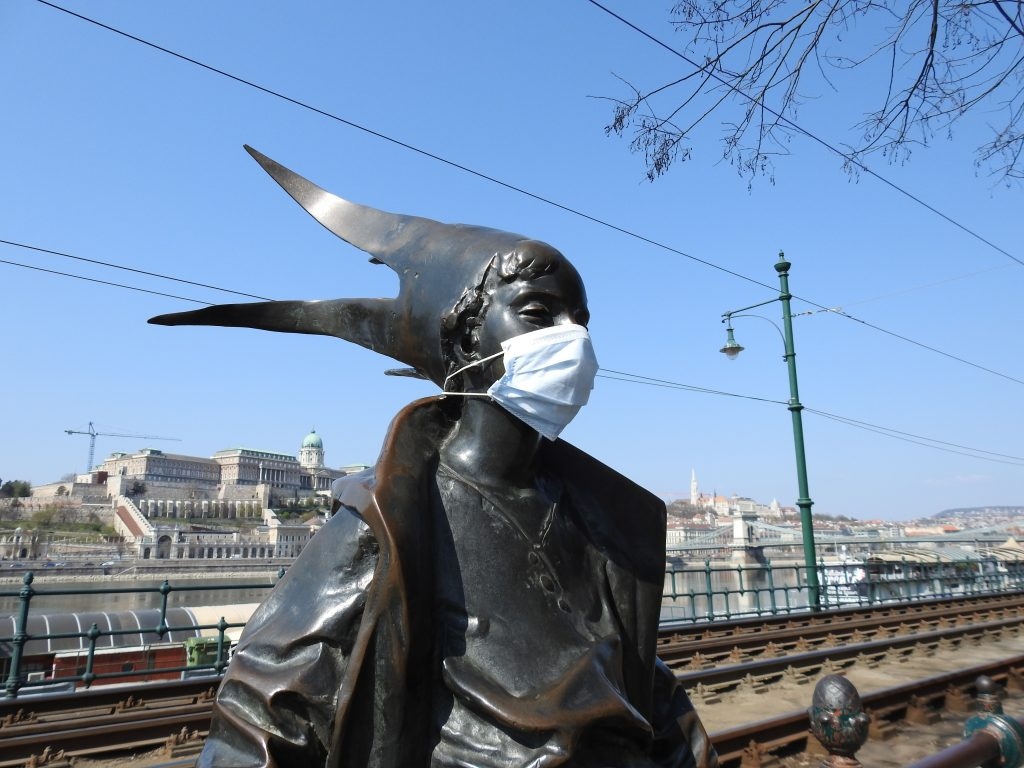 The next one is Ferenc Puskás or Pancho as they call him in Spain. He was the greatest Hungarian football player ever; with his "Golden team" they were unbeaten for 4 years, between 1950 and 1954 and they won the Olypics as well. In 1953 they played a legendary game against England in the Wembley Stadium and the Golden team won for 6:3.
Later Puskás played in the Real Madrid then he was a coach in many countries like Greece, Australia, Egypt, Paraguay, Chile… In 2004 he was listed as one of the best football players of all times by FIFA and in 2019 he got the posthumous honor of the "World Sports Legends Award". You can find this group of statues a little bit out of the city centre of Budapest, in Óbuda (Old Buda).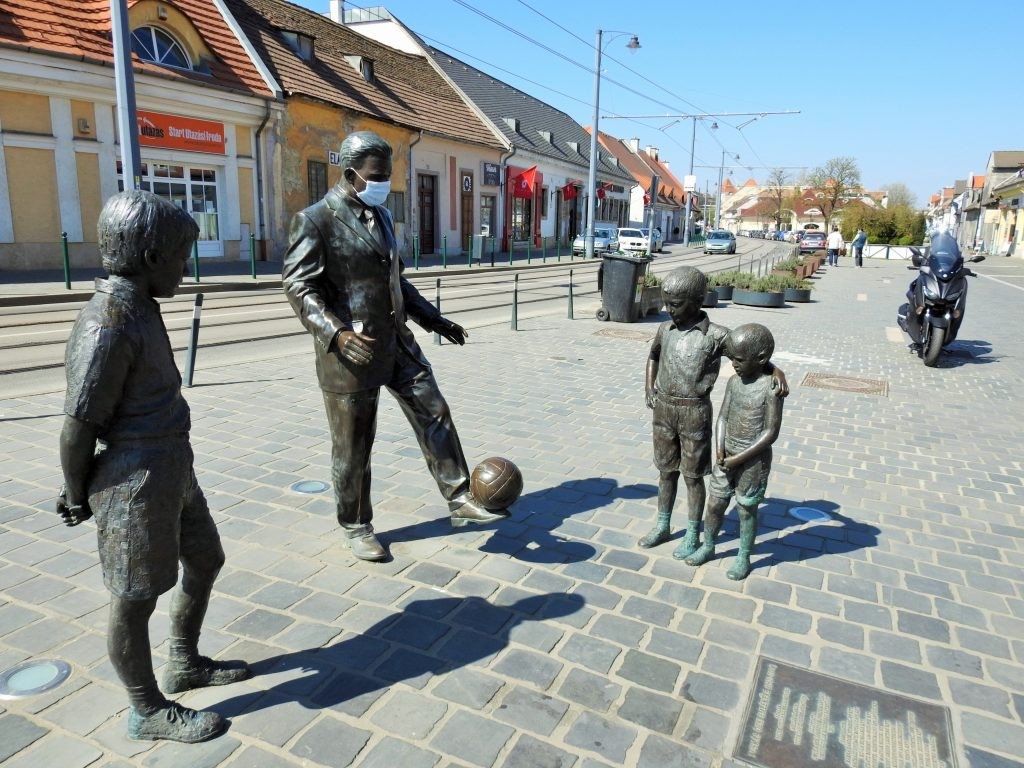 https://www.triptobudapest.hu/wp-content/uploads/2020/06/dscn1248-scaled-1.jpg
1920
2560
Trip
https://www.triptobudapest.hu/wp-content/uploads/2020/07/triptobp.png
Trip
2020-06-04 09:09:32
2020-09-25 09:35:57
News during the coronavirus pandemic – 01.05.2020.